CALC2QIF is the OpenOffice version of XL2QIF. It is a Calc (OpenOffice spreadsheet) macro that converts data to QIF format, the format used by Money, Quicken, GNUCash.... to import transactions.
CALC2QIF is optimized for frequent conversions, it supports also different date formats (US, Europe, pre/post 2000).
It's also possible to choose the language at the first installation. You can choose French or English.
The figure below shows the CALC2QIF command windows and the parameters that can be changed: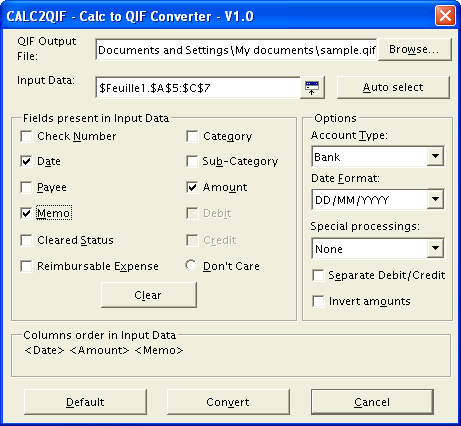 CALC2QIF and XL2QIF work the same way and provide the same conversion features.
---
Calc data should be arranged in columns sorted by type of field. As in the example below:

Note the selection area that contains only valid data cells.
---
It is recommended to do a backup of your finance data before importing a .qif file generated by CALC2QIF.
---
CALC2QIF is an OpenOffice macro written initially to solve personal needs of conversion between spreadsheet data and Money. These needs being shared by several people I've decided to share my work and to provide this macro as a freeware on this web site. However it's not guaranteed bug free. I'm doing my best to test CALC2QIF but if you find any issue please report it to me.
The current CALC2QIF version is V1.03.
CALC2QIF V1.03: (February 06, 2006)

[Export] Numbers lower than 0.1 are now written in the QIF file in decimal format (eg. 0.09) rather than Exponential format (9E-02) which is not supported by Quicken or Money
[Import] Now supports "," and "." as thousands or decimal separators in the imported QIF file (ex: 1.203,46 or 1,234.78)

CALC2QIF V1.02: (December 20, 2005)

Includes all the XL2QIF 1.0 features including investment accounts
V1.02 fix a Basic error issue with OpenOffice 2.0 under Linux

<
CALC2QIF Documentation: (August 27, 2004)

Documentation in Acrobat format
---
Known limitations:
---
CALC2QIF on the web
NewsForge: Four OpenOffice Macros, Friday October 28, 2005
Make OO.o more useful with these mini-applications...
Almost every personal finance package supports QIF format, which allows you to exchange financial data between different applications. Using the CALC2QIF macro, you can export data from your favourite finance application into a Calc sheet and vice versa. For example, if you use Grisbi to manage your finances, you can import your data into a Calc sheet and use it to create diagrams and perform advanced data manipulation.Includes all the XL2QIF 1.0 features including investment accounts
Novell Cool Solutions:OpenOffice.org Macros for End-Users, July 29, 2004

---
Feedbacks
All your feedbacks are welcome to improve CALC2QIF.

CALC2QIF is freeware and will remain free, however if you find CALC2QIF useful, you may want to support it's development. You can do so with a donation, using the button below.
---
Visitors since December 1st, 2003: